The Magic of "Ol' Man River"
by Glenda Davis
(Article and interview from 1980)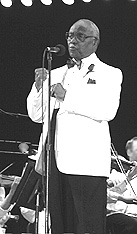 ---
James Hyter is not what he may appear to be. The thousands who have heard him perform at the Memphis in May sunset symphony may think of him as "Ol' Man River," but it would be a shame if Hyter became stereotyped in that role. In Showboat, Hyter has twice portrayed "Joe," the simple, humble stevedore who sings of the river. In reality, James Hyter is a powerful force in the musical community of Memphis. He has been involved in it for years, as a performer and as a working supporter, serving as a board member for both Opera Memphis and the Memphis Symphony Orchestra.

He is a man of contrasts.

When he performs, his music takes him to heights he never knew he would reach - but in real life, he is a working man, busy with the everyday details of earning a living.

He has begun to receive some recognition in his hometown, but few who have heard him sing here are aware of the acclaim he has received in Europe during two annual performing tours.

He once turned down a four-year musical scholarship to Rust College - he would have had to spend too much time traveling - then later graduated from business college.

He is a man devoted to his family, but still has time for a wide circle of friends, black and white.

He is an artist, a black man consumed with love for his music, who remained steadfast in his devotion to it - who "hung in there" when it was not an easy thing to do - for years before the rewards began to come.

Now, at a relatively late time in life - he is 58 - recognition is coming, and he is seeing his dream of being a singer coming true.

"If someone had told me 10 years ago that I would be standing on the banks of the mighty Mississippi with an 85-piece of orchestra in the background, singing for an audience of more than 100,000, I would have never believed it," he said. In his everyday working clothes - suit, tie and polished shoes - Hyter is the typical conservative businessman. But in the overalls and tattered shirt he wears as "Joe," he is uniquely believable as Ol' Man River.

Hyter is stocky, of average height, and his slightly receding hairline is graying at the temples. His voice is resonant and deep - like the river. You may have heard the familiar words a hundred times before. But when you hear James Hyter sing "Ol' Man River" - in dialect - with the river itself rolling along behind him - then you get the message.

The passion and intensity of his singing put you in touch with the suffering of slaves who toiled in the heat of the cotton fields, sweating under the weight of a million bales of sun-bleached cotton.

"When I walked up on the stage at the sunset symphony, my friend, Maestro De Frank, said to me, 'This is your song - do it the way you want to do it,'" said Hyter, recalling that warm summer evening on the river. And when he sang those moving words, he brought the crowd of some 200,000 to their feet in spontaneous applause, just as he had the year before when the throng was a mere 20,000.

You an' me, we sweat an' strain, Body all achin' an' racked wid pain. "Tote dat barge! Lift dat bale!" Git a little drunk an' you land in jail. Ah gits weary an' sick of trying, Ah'm tired of living' an' skeered of dying, But ol' man river, he jus keeps rolling' along.

Then the vast audience demanded an encore - and still they would not let him leave the stage until he had sung his song a third time.

Hyter is moved by the way audiences respond to his singing. "When someone says to me, 'Your singing brought tears to my eyes' - that's my reward - knowing I have touched someone in that way," he said.

"I have to sing it the way I feel it. The song tells a story. If you haven't had the experience in the story, you have to visualize it. When I sing 'Ol' Man River,' I try to see the levy, try to see the black man working, getting no rest 'til the Judgement Day.

"I have never experienced any of that life, but I know there are people living that way today, and I try to interpret my feeling about it. And my bass-baritone voice has the sound that gives you that feeling," he said. "If I look in the audience and don't see someone dabbing at their eyes, I haven't done my job."

There have been a few times when Hyter has been so moved by the words and his feelings, that he, himself, has come to tears during the singing. And so have his fellow performers. As one baritone in the Showboat chorus said later to Hyter, "When you sang 'Show me dat stream called de River Jordan' - I was hardly able to sing the chorus. That song was written for you."

Hyter credits Memphis State's 1968 production of Showboat for giving him his first break. "Front Street Theater had tried to do the show earlier, but it was a time when there was a lot of racial tension. The show has some sensitive black-white areas, and plans just fell through. Then later I saw in the paper that Memphis State was having auditions for Showboat," said Hyter.

Keith Kennedy, professor of theater at Memphis State and director of the production, recalls the first time he met Hyter, and that audition: "When I called his name, this shy, humble man came to the stage and perched on a stool. Then he opened his mouth - and blew the roof off the theater," Kennedy said.

"His singing was electrifying. He was a magnificent talent, the obvious choice for Joe. He knocked me out of my socks."

Hyter's reaction to Kennedy's praise is typical: "I just did what I was trying to do, and that was to tell the story the way the author wrote it," he said.

Even faithful theater-goers may not be aware that Kennedy was so impressed with Hyter he rewrote the play, enlarging the part of "Joe." "It was not just because of his talent, but his total being - the gentle humanity I sensed in him, that I rewrote the play, and had the character 'Joe' narrate the story."

"Jim's talent is housed in a magnificent frame, and the character of the man befits the talent. That is not always true of artists," Kennedy said.

Hyter started learning how to get the most out of his big voice more than 20 years ago, when he first began taking voice lessons. His musical education up until then had been in the glee club at Booker T. Washington High School, until his graduation in 1940, and in his church choir.

He is still a member of that church, Centenary United Methodist on McLemore. Mrs. Lillian Chatman, a fellow church member and longtime friend, remembers Hyter's struggles as a young man. "He knows what it means to make his way himself. He worked hard at his music then, and he still does. He was always practicing, and Mrs. Beacham, our organist at the time, would go over the music with him and help him, and so did I," said Mrs. Chatman.

It was Jerome Robertson who introduced Hyter to his voice teacher, Robert Kirkham, who learned his art from Robinson. "I first studied voice with Madame Florence McLeave, and later with Mr. James Barr. Then a friend of mine, Mrs. Carmen Beale, arranged an audition for me with Mr. Robertson," said Hyter.

At that audition, Robertson suggested to Hyter that the music he had been singing was too light for his voice.

"He had asked me to bring all my music, and after I sang, he told me that I should be singing heavier, more classical and operatic music. He himself had no opening for another student at that time, so he introduced me to Bob Kirkham, who had been one of his students. Robertson died about three weeks after we met," said Hyter.

He has been studying for 18 years with Kirkham, who started him in operatic music. "It took me a year to learn my first aria," Hyter said. "That kind of music was new to me, and I had had little exposure to it. I would study the score, and play the recording of the music over and over until I became familiar with the tune," he said. "That's still the way I learn new songs."

Kirkham believes there is something that sets Hyter apart from other singers. "There are many singers on the face of the earth who are wonderful singing machines - they have marvelous diction, all the muscle power, the arpeggios, cadenzas, high notes and low notes - but nothing in the heart," he said.

"They never get around to the thing that all forms of art, including music and singing, are all about - communication." Then Kirkham decribed Hyter with a word that means the same thing in several languages - "caritas" - or caring.

"It's the thing that shows what an individual feels about other people - it's the caring, the concern, the 'caritas,' that sums up Jim Hyter. He cares about human beings - that's the way God made him. I have seen him standing in the death room of a cancer patient, seen him at a party laughing and cutting up - I've seen him at Christmas with his family," said Kirkham.

"When he sings, the voice and performance and communication come to you all at once across the footlights, wrapped up in one package - a whole human being," he said.

Although Hyter now has a large repertoire of songs, show tunes, operatic arias and classical music, he is invariably asked to sing "Ol' Man River." "Some people ask me if it's the only song I know. I say, 'No, it's not the only song I know, but it's the one I am most often asked to sing,'" he said.

Hyter in not a "serious" artist, in the sense that he does not work full time at his music. He has been a marketing specialist with Blue Cross and Blue Shield of Memphis since 1968. "I enjoy my work. It brings me into contact with a lot of people and I like that," he said. But his first love is music, and he spends as much time with it as possible.

His commitment to music is much deeper than his occasional performances. As noted earlier, he is an important cog in the mechanism of local opera, spending much more time working behind the scenes to help in the development of musical culture in Memphis.

Hyter has been a black pioneer in the Memphis classical music scene. Now in his 12th year as an Opera Memphis board member, he was the first black to serve a three year term on the board. "I served three years and never missed a meeting. And until Rudi Scheidt came in as president, I was not asked to serve on a committee.

"Later on, Dr. Mildred Greene was elected to the board, and a few others have come on. I am still the only black bass that has ever performed in the Symphony chorus - and I've only been there for the last ten years," he said.

"As an Opera Memphis Officer, his main function is budget and finance, but he is also on the planning committee and is very much involved in future plans," said Joel Bernsen, Opera Memphis president.

"You can count on him to be at meetings, and his opinions are always helpful. He's also involved in the politics of opera," Bernsen said. "If somebody's having a problem, he picks up on it right away - he's usually the first to know," he said.

Being black may have hindered Hyter's career. "Jim was born 20 years too soon," Bernsen said. "He came up in a day when black people didn't have much chance to sing opera. That had to limit his opportunity. He is a good example of what a qualified black man without a lot of wealth can accomplish. And Jim can laugh - at you, and at himself," he said. "Jim has one of the best natural bass voices I have ever heard, and real dramatic ability," said Bernsen.

Hyter himself is not sure he would have been ready if opportunity had come looking for him 20 years ago. "Even if it had, my voice might not have been ready, it might have lacked the maturity it now has. I'm a firm believer that the Lord has put us all here for a purpose - and sometimes bad things have to happen before the good shines through," he said.

"The racial strife in the 60's served its purpose, and now doors are open that weren't before. It was the Lord's will that (Martin Luther) King died a violent death - and a lot of good has come from that to change the hearts of many a diehard," Hyter said.

When asked why blacks seem to have a low profile in opera, Hyter indicates that it may be because of the time and dedication necessary for such music. "I've tried to get other blacks involved. It's not that they are not interested, but it takes a great deal of time to learn the required languages , and the music - most blacks are too busy earning a living," he said. "And the audiences are 98% white."

And then there are not that many parts written for blacks in opera. "Our largest local black involvement in opera was when we did Aida and The Masked Ball. The slave chorus in Aida was a group of singers from Hamilton High School, and a chorus from Le Moyne Owen performed in The Masked Ball. But the door is open in this music to any talented singer, regardless of race, color or origin," Hyter said.

It's just possible that Hyter is a big disappointment to a lot of Memphians, black and white, because he doesn't sing gospel. "I know that gospel has a lot of attraction, for singers and for audiences. It has a beat. It's sung in English, and it's a lot easier to sing than opera.

"But I am not a gospel singer. Sometimes if I'm asked to sing at a function and they expect a program of gospel music, then I have to decline. It's just not my style," Hyter said. "But I have an appreciation for gospel and other music forms."

As a performer, Hyter has appeared in several operatic productions - Aida, Sampson and Delilah, Die Fledermaus, and Rigoletto, to name a few. He has sung for the Kansas City Lyric Opera Theatre, the Santa Fe Opera Company, and often performs in churches and schools in the Memphis area.

He was instrumental in bringing other musical productions to Memphis, and has demonstrated an ability to attract talented black performers to local stages. He helped to bring Memphis-born Vera Little, now a well-known black singer, back to her hometown to sing the mezzo soprano lead in The Masked Ball. It was her first opera appearance in this country since she became internationally known.

Hyter has performed in the city schools on several occasions. "I love to perform for the children. They are my best audience. They love it when I go down to those low notes," he said.

Hyter enjoys playing a part in exposing children to "his" music. "That is why we now have Southern Opera Theatre, to carry opera to the schools, hoping to create interest there," he said.

He has more requests to sing in areas churches, both black and white, than he can accommodate. And when Hyter sings, he thinks of it as a ministry.

"All songs have a message, and that's what I always try to put across. As an example, one of the songs I usually include in my church concerts is 'If I Can Help Somebody Today':

"If I can do my duty as a Christian ought, If I can bring back beauty to the world upwrought, If I can spread love's message that the Master taught, Then my living shall not be in vain."

"At one of the site churches I sang that song, and afterwards an older lady came up to me and hugged me. She said, 'I want you to know that you helped me today - with your singing,' and as long as people respond to me that way, I know I've delivered a good sermon," he said.

Hyter's involvement in the musical community is summed up by Jim Gholson, a black teacher of music at Memphis State. "He's an elder statesman in the minority community," he said. "Jim consistently demonstrates an interest in and commitment to classical music. He serves as a model to inspire talent in both blacks and whites, and as an inspiration for folks to look very carefully at youthful talent in the city, and see that, by whatever means, that talent is developed," Gholson said.

Hyter has toured Europe twice - officially as a performer and unofficially as a goodwill ambassador for his city and his country.

He is a feature soloist with the Greater Memphis Chorale, a group of about 40 Memphians and Midsoutherners, who have presented performances in 1979 and 1980 in the Netherlands, Belgium, France, Switzerland, Austria and West Germany.

Sara Beth Causey, chorus director for Memphis Symphony Orchestra and Opera Memphis, recalled an incident on the 1979 tour that was typical of the warmth of the European audiences toward Hyter: "It was in a small town, a suburb of Lucerne, Switzerland. We had sung a formal program in a church, and our reception there was warm and friendly," Causey said.

"After the performance, everybody, singers and hosts, went to a local pub, the town rendezvous. There was a large crowd, and everyone was singing and having a good time. Jim sang 'Ol'Man River,' and when he was finished, they all jumped to their feet and cheered and applauded, and made him sing again. We saw the same thing happen over and over again in Europe," she said.

Gail Howard, founder of the Chorale, tells of the attention and acclaim showered by the Europeans on Hyter: "It was phenomenal. He stole the hearts of the audiences everywhere we performed. And they all wanted to talk to him afterward. We had problems getting him out of some places," she said.

According to Howard, Hyter is much more than a performer. "On tour, he is one of the most outstanding ambassadors Memphis could have. To send a businessman over there is very straightforward, but with Jim, first he steals them musically, then he knocks them out with wonderful charm. Jim is a remnant of a time past, a true gentleman. How many men do you know who kiss your hand?" Howard said.

Sara Beth Causey described another incident in 1979 that was repeated in 1980. "We were on an excursion boat on a trip down the Rhine River in Germany. We were not scheduled to sing formally," she said. "There were several hundred people on the boat. Someone would strike up a song, and everyone would sing. Then Jim sang 'Ol' Man River' - except that he sang 'Ol' Man Rhine' - and the people went out of their minds. Most of them didn't speak English, but they loved it. They made him sing it two or three times," said Causey.

Gail Howard told of still another vignette that took place in 1980 at a resort outside of Amsterdam. "We had sung a program in town, and were being entertained afterward by the owner of the resort. We were all singing and Jim was asked to sing 'Ol' Man River,'" she said.

Hyter picks up the story. "I heard someone singing along with me. I looked around and it was the resort owner, and tears were in his eyes. Afterward, he said, 'That's my favorite song. You sing it even better than Paul Robeson.'"

That evening proved to be a special one for a lot of people. Ms. Howard continued. "In the adjoining room, there was a wedding reception in progress, a very elite social gathering. The father of the bride was passing our room and heard Jim singing. He came up to him for a few minutes and asked if there was any way he could sing for the bridal party."

"Jim agreed to sing, and the whole wedding party, bride and groom and several hundred guests, came into our room and sat or stood wherever they could. The young couple sat right in front of Jim while he sang, and the bride jumped up and hugged him when he finished, and everyone had a wonderful time together. It's a very beautiful memory of our trip," said Howard.

In anticipation of the crowds that surround Hyter after the performances in 1980, special T-shirts were made. Hyter's bore the legend "Ol' Man River" - Europe '80. Several non-singing ladies in the group wore matching T-shirts that proclaimed HYTER BODYGUARD.

"There were times on the tour," said Ms. Howard, "that we had the whole Chorale surround Jim, and then march out with him in the midst in order to get out. We had to whisk him away to stay on schedule," she said.

The Hyter T-shirts have caught on. During the opening performance of Showboat in Confederate Park, about 75 of his friends and fans nearly filled a section of bleachers, most of them wearing the shirts. And Hyter now has his own special fan club, started by some friends from Missouri.

A man who is apparently unburdened by the inherent mistrust that blacks and whites sometimes have for each other, Hyter seems to have overcome the traditional racial barriers. He is a man who obviously loves people, and has no trouble meeting them on whatever level he finds them.

Hyter counts among his friends both the noted and the unknown, black and white. He is equally comfortable talking with a farmer or a wealthy patron of the arts, and he is at home with performers, both amateurs and professional, the obscure and the famous.

And his friends don't mind telling you how they feel about him. Friends like James Eastham. "Jim has known my family since the kids were little, twenty years or so. He was the bartender at the Army Depot's Officers' Club. We were members and spent a lot of time there," Eastham said.

"We knew he was studying music. He would have concerts at his church, and invite the whole bunch at the club. We attended everything he invited us to, and thoroughly enjoyed it," said Eastham.

Hyter was present for some special moments in the family's life. "When my first wife died, Jim sang at her funeral. He sang for our wedding, too," he said.

The Eastham boys, now grown and with families of their own, also remember that early friendship. "He's like a second father to me," said Kenny Eastham. "When I was five or six, I used to stand on tiptoe at his bar, barely able to see over the top. I'd borrow a quarter from him for lunch. James always looked after us kids when our parents were playing golf," he said.

"When I was in the eighth grade at Fairview Junior High School, I made a chessboard of little laminated pieces of wood. I gave it to James. He still has it. I'd give him my last dollar," Kenny Eastham said.

Kenny's brother, Mike, added, "We've always had a lot of respect for James. When my father was in the hospital, he was the first to visit. We didn't know he was a singer, we just knew he was a friend. We realized as we got older that he was really a talented performer."

A mutual love and appreciation for music produced another long friendship for Hyter. "Jim and I became good friends when we were both involved in opera and music," said Dr. Aden Barlow.

"We entertained together a lot. I picked up on his black friends and he picked up on my white friends. We shared many good times together in an interracial atmosphere," he said.

Dr. Aden Barlow sums up the feeling of many of Hyter's friends - "He stood by my family during a time of deep trouble. He is truly a brother of mine. He was there when my father died. Jim is a humanitarian. He is loved by blacks and whites equally. He has an objectivity about race that few people have. If we had more people like him, it would be a better world," said Barlow.

Hyter's wife, Flora, a small, soft-spoken woman, describes life with Hyter as sometimes being "difficult." "People are always calling, asking for his help, for one thing or another. But I've accepted that as part of our life," she said with a smile.

"Our daughter, Beverly, is my best critic," said Hyter. "She tells me if she thinks I'm not singing a phrase just right. They both kid me a lot when I'm practicing around the house. So I try to do most of my practicing when I'm at home alone," he said.

What does Hyter expect for the future? "It's true that opportunity came for me after I reached my maturity - but as Dr. Fiora Contina, a friend (then head of the music department at Indiana State University), told me years ago - 'There's still a world of good singing for you to do yet' - and I hope and pray my voice will continue. I will sing for as long as I am able, and as long as it means something to the community," he said.

"In this kind of singing you can't expect to go on indefinitely. My time will come. In the meantime, I try to take care of the instrument, my voice. During Showboat, I was talking to some young people, performers, about 'taking care of the instrument.' Every chance they get, they are lighting up a cigarette. I said, 'You know, every time you light up one of those, you're damaging your instrument - shortening your career.' They were shocked to hear that," Hyter said.

He himself has never smoked, and although he was a bartender for years, he has never taken alcohol.

Hyter has other advice for young performers. "When they ask for my suggestions, I tell them, "If you have a talent, develop it, work with it, keep it going. Someone will know you're out there. Don't try to be someone else, just be yourself," he said.

"Charisma" is a word that tends to be a bit overdone these days, but it still best describes that special quality Hyter possesses. It's what helps to make the "magic" that happens between him and his audiences when he sings. And Hyter's reaction to that magic is like an expression of gratitude - "It has added years to my life."

"When I face the audience, they know something is about to happen - and then I make it happen. And I give thanks to the Man above who gives me the strength to make it happen.

"Sometimes I think he's saying to me - 'You've had your day - you understand. Now you sell it to the others.'

"Then when I try to do that, and others embrace me with tears in their eyes, that's joy to me. Others may say their joy is at the journey's end. I find my joy during the journey."
---
If you would like to read a biography about Mr. Hyter, click on the word biography.

|edition: January/2012|
Copyright 2012 Jasir Productions