James Hyter - Biography
1997 Edition
Special thanks to Walker & Associates, Inc. for the use of this document.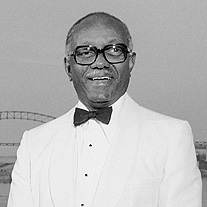 ---
January 1997
JAMES A. HYTER
"OL' MAN RIVER"

Biography

James Hyter is an accomplished bass-baritone vocalist who serves as both a performer and civic leader in his hometown of Memphis, Tennessee. Most Memphians know Hyter as "Ol' Man River" for his soloist role with the Memphis Symphony Orchestra at the Sunset Symphony. Since 1978, he has lent his deep, resonant voice to the familiar words of Jerome Kern's classic "Showboat" tune at the Memphis in May event, while hundreds of thousands clamor for encore after encore. Although fame has come relatively late in life for Hyter, he has been singing "the low notes" for most of his life. On February 2, 1997, Mr. Hyter reached the ripe young age of 75! A resident of Memphis since he was a week old, he began singing in the Centenary United Methodist Church choir while in grammar school. He also sang with the Booker T. Washington High School Glee Club under the direction of the late Emma Corporal. After high school, Hyter spent three years serving in the army. Mr. Hyter rejoined the choir at Centenary. He first studied voice under Madam Florence McCleve, and later studied under James Barr. He transferred his membership from Centenary to St. Luke's United Methodist Church in 1991, and now sings in the choir at St. Luke's. In 1961, he was introduced to the late Jerome Robertson, Minister of Music at Memphis' venerable Second Presbyterian Church. In the 1960s, following Robertson's death, Hyter began studying opera and the classics with his present voice teacher and friend, Robert Kirkham. Hyter's first dramatic role came in 1968 when he was cast in a Memphis State production of "Showboat" by Dr. Keith Kennedy, Director of Speech and Drama. His role of "Joe," which was expanded for Hyter, is the role he has reprised annually to great acclaim.

Hyter has always taken his music to the people - from the river banks of the mighty Mississippi to concert halls, churches, schools and community centers. For the past nine years, Jim has carried his music to Methodist and Baptist hospitals during Christmas time to entertain their cancer patients. In the past 28 years, he has sung in the Memphis Symphony Chorus, starred in many local operas, toured Europe three times as a soloist with the Greater Memphis Chorale and continued to perform annually at the Memphis in May Sunset Symphony. May 1997 will mark Hyter's 20th appearance at the Sunset Symphony.
From 1968 to 1988, Hyter performed an average of five concerts a month while working full-time as a marketing representative for Blue Cross/Blue Shield, travelling throughout five Mid-South counties as a company field agent. He has retired from his secular job to devote his efforts full-time to his performing career.
Hyter served as a member of the board of Opera Memphis for 13 years, and is currently serving in his 16th year as a board member of the Memphis Orchestral Society. He also served four years on the Lambuth College President's Advisory Council, 15 years with the United Way's Budget Panel, and eight years on the Pension Board of the United Methodist Church Memphis Conference, through 1992. June 1995 ended his 8-year term on the Trustee Board of Methodist Health Systems, and he received an appreciation award for his continuous support. He is a former board member of the Advisory Board at Charter Lakeside Hospital.
In addition to several annual performing tours of Europe, he has sung for the Santa Fe Opera; the Kansas City Lyric Theater; and numerous civic, educational, business and church functions. Singing on the nationally televised Liberty Bowl at halftime in 1986, performing at major conventions and singing with the Jackson, Mississippi Symphony Orchestra Pops under Guest Conductor Newton Wayland of the Houston Symphony are among the highlights in the Hyter scrapbook.
Hyter was voted 1989 Citizen of the Year by the Memphis and Shelby County Optimist "Respect for Law" Committee. He received a letter from former President Bush and Mrs. Bush congratulating him on the honor, saying, "You have served and inspired others by your generosity and hard work."
Hyter was featured in the May/June 1989 issue of "Tennessee Illustrated" magazine under the headline "He Just Keeps Rolling." He spoke about what singing Ol' Man River every year at the climax of Memphis in May means to him. "If people don't start wiping their eyes, if I don't see the handkerchiefs come out, then I haven't sold the song," he said.
Hyter also appeared in the 1988 Scott Craig production of "Driftwood-Waterways of North America," in a segment on the Lower Mississippi, showcasing "Ol' Man River" from Memphis. This international film is shown on public television, used as an educational series for classroom viewing, and used to promote tourism in the area. A recipient of the Downtown Civitan Club Award for his promotion of Memphis and the Mississippi River, he also is the 1988 Memphis Symphony League Hebe Award Winner for his service to the arts. In addition, Hyter has been honored as an "Outstanding Ambassador for Memphis" and was given a Proclamation by former Memphis Mayor Richard Hackett.
In an official proclamation issued in September 1988 by former Shelby County (TN) Mayor William Morris, Hyter was called a "national treasure for the gift he shares with us, strengthening the love of the culture of our community." Mayor Morris also declared an official "James A. Hyter Day" by certificate.
Hyter also received the 1988 Annual Host Award from the Memphis Convention and Visitors Bureau and, as the Memphis Tourism Ambassador, was presented with the key to the city by Hackett. Following his performance at Portfest with the Little Rock Symphony in June 1989, United States President Bill Clinton - then governor of Arkansas - presented him with the Arkansas Traveler Award, naming him an official Arkansas Ambassador of Goodwill. Hyter also has performed with the Northeast Arkansas Symphony.

Former Governor Ned McWherter awarded Hyter Tennessee's Outstanding Achievement Award, and his civic activities continue to be rewarded by the Memphis Police Department, which has designated him an Honorary Policeman. In addition, the Shelby County Sheriff's Department recognizes Hyter as an Honorary Deputy Sheriff.
Hyter has been the featured soloist at the National Exposition Managers Convention, American Bar Association State Convention, Tennessee Consumer Credit Bureau Convention, REA (Amway) International Convention, and has performed for the National Square Dance Association many times. He also performed in October 1989 in Albuquerque, New Mexico at the Crimestoppers International Meeting and at the Memphis Chamber of Commerce's Legislative Weekend.
Hyter was honored in 1986 by the Memphis Alumnae chapter of Delta Sigma Beta for "Outstanding Contributions to Black Performing Arts." He was also presented the 1989 Omni Award by the Brown Chapel African Methodist Episcopal Church, and has earned a place in the Omni Awards Hall of Fame.
Mr. Hyter was presented a commemorative wrist watch by the Memphis in May International Festival in 1992, in recognition of his outstanding contribution of 15 years to the festival's Sunset Symphony. In addition to his annual "Ol' Man River" performance at the Sunset Symphony, Hyter performs at many local concerts, including the Lindenwood Concerts' "Evening of Soul." In 1993, he gave his second performance with the Memphis Symphony Orchestra's Gospel Pops Series.
1991 proved to be a typically busy year for "Ol' Man River." In April, Mr. Hyter performed before the National Sheriffs' Association Conference in Minnesota. During the National Football League's halftime celebration at the Liberty Bowl, he sang his famous rendition of "Showboat" on behalf of the Mid-America Football League. He also was a guest performer during the grand opening ceremonies of the Coors Brewing Company. The planning committee for the 25-year club awards dinner of the Schering-Plough Company recruited Jim Hyter to sing, and as always the holidays found Jim performing his favorite Christmas songs for the cancer patients at Methodist Central and Baptist Central hospitals. He also participated in the annual Christmas program for the homeless at Calvary Church.
In 1992, Mr. Hyter performed at the National Clogging Convention in Memphis. He also sang for the 30th anniversary of St. Jude Children's Research Hospital during the ALSAC - St. Jude Boards of Directors and Governors meeting held at The Peabody Hotel. Also at The Peabody, Mr. Hyter was the featured entertainer during the Hadassah Major-Big Gifts Gala. A highlight of the evening was Jewish communal leader Philip Belz joining Mr. Hyter in singing an encore of "Ol' Man River." The 1992 Smith & Nephew PLC Board of Directors "River City Rhapsody" was held in Memphis at the Dixon Gallery and Gardens. James Hyter performed vocals for the musical review with singer Joyce Cobb, celebrating the history of Memphis music. Mr. Hyter also performed at the employee event for Smith & Nephew, honoring those who had been with the company for 25 years as of 1992. The annual Board of Directors and Trustees of Baptist Memorial Hospital in 1992 also featured Jim Hyter as the event's star entertainment.
Mr. Hyter's schedule outside of Memphis included the meeting of IDRC World Congress for Corporate Real Estate Executives, held at the Opryland Hotel in Nashville in May of 1992. The event included a musical extravaganza at the Grand Ole Opry House with Jim Hyter and the Nashville Symphony, Marie Osmond, and Charlie Daniels performing. In Jackson, Tennessee, he was awarded the key to the City from Jackson Mayor Charles Farmer during a performance at the Jackson State Vocational Technical School Graduation. And finally, Auburn United Methodist Church in Auburn, Alabama, featured Hyter in An Evening of Spirituals in October of 1992.
Hyter's 1993 activities didn't slow down at all. His rendition of "I'll Tell It Wherever I Go" at the nationally-broadcast McDonald's All American High School Basketball Game on April 4 - the anniversary of Martin Luther King's death - reminded one of the largest crowds in the game's history of King's life and goals. In July, he judged the Miss Milan No-Till Scholarship Pageant, a preliminary to the Miss America pageant. In addition, he was the featured performer in Union City's "A Mid-Summer Night Musical Extravaganza." 1993 also marked the second year Hyter has been a featured soloist at the Memphis Symphony's Gospel Pops. Hyter also performed throughout the year at several different events, including the Smith & Nephew Richards riverboat party, the Tennessee Bankers Association meeting at the Peabody Hotel, the Tennessee General Session Judges' Convention, and Calvary & the Arts. A joint concert with the Germantown Baptist Church Choir, performing the national anthem for the Boys Town 5K Run, and singing at Temple Israel with the Memphis Symphony were other highlights of his busy year. In addition, Hyter served on the advisory board for LeMoyne Owen College's Division of Fine Arts and Humanities.
Hyter proved to be as busy in 1994 as he was in '93. In April of 1994 he performed at the Memphis Convention and Visitor's Bureau's National Tour Association's Convention. Back in Memphis, Hyter highlighted Morgan Keegan's Fixed Income Conference in September and also performed at the Chamber of Commerce's national convention at the Peabody Hotel in October. In November of 1994, Hyter packed his bags and visited Schenectady County, New York to perform for their Chamber of Commerce's annual dinner called "A Musical Tribute to America's Heritage."
1995 was a year good to Mr. Hyter, as well. He served as an entertainer at a variety of events. In January he performed as a soloist for a fashion show sponsored by Sam's & Sara Lee Corporation. He also performed at the Tennessee Association of Student Council's Convention at Dyersburg High School, the Toastmaster Spring Conference, Kmart Corporation's grand opening, Little Garden Club of Memphis and the First United Methodist Church in Montgomery, Alabama. In 1995, Hyter was no stranger to First State Bank's "A Mid-Summer Musical Extravaganza" while making his third appearance at their event in July in Union City, TN. Mr. Hyter made his ninth consecutive appearance at Calvary Church's Calvary and the Arts. He also was the surprise guest entertainer for Hnedak Bobo Group's Christmas party and was the featured performer at Rhodes College's annual Christmas luncheon.
In May of 1995, James received an appreciation award from Toastmasters at their International-District 43 Spring Conference. This award was to recognize that Mr. Hyter "communicates beautifully with his fellow man through the medium of music."

The public can now bring Mr. Hyter's music home with them. In May 1996, Jasir Productions released his debut solo CD, "Musically Yours, James A. Hyter." James says this all started about two weeks before the 1994 Sunset Symphony when he performed at Richland Baptist Church in Memphis. A woman by the name of Jeptha Robeson Bledsoe Rust approached him with an album opportunity. Little did Mr. Hyter know at the time--that about a year later, Ms. Rust would become the executive producer of his album and her son, Jeff Rust, would be the co-producer. James began recording in July 1995. The recording was first released at the Memphis In May International Festival in 1996. In 1996, Mr. Hyter continued his busy schedule. In March he performed for the Travelers Protective Association, a fraternal organization dedicated to child safety, programs for the deaf and community service. In May, after his annual performance at the Sunset Symphony, he joined Vice President Al Gore in lighting the Olympic flame. Mr. Hyter entertained at a variety of events, including the Professional Secretaries International Awards Banquet, United Methodist Memphis-McKendree District's Annual Laity banquet, the National 4-H Congress, in addition to twice performing at the Holy Family School in Holly Springs, Miss. He also performed for the largest real estate company in Arkansas, Lindsey Real Estate Company. Mr. Hyter was cast as the "crying man" in the film adaptation of John Grisham's "The Rainmaker", directed by Francis Ford Coppola.

Through the years, Mr. "Ol' Man River" has performed in city schools numerous times, and has been made an "Official Orleans Bluejay" of the Orleans Elementary School. He was also presented the Charles W. Washburn Achievement Award by the Booker T. Washington Booster Club.
His involvement in the musical community is summed up by University of Memphis music teacher and Memphis Symphony Orchestra clarinetist Jim Gholson, who says, "Jim's an elder statesman in the minority community. He consistently demonstrates an interest in and commitment to classical music. He serves as a model to inspire talent in both blacks and whites, and is an inspiration for folks to look very carefully at youthful talent in the city, and see that, by whatever means, that talent is developed."

For more than three decades, Ol' Man River has given his music, his heart and his life to serving the Memphis community and with the newly established James A. Hyter Vocal Music Scholarship Fund -- now with a balance of more than $50,000 -- the Memphis community can honor the living legacy of Hyter. The idea for the scholarship originated when Elizabeth Neilsen, a legal secretary for Morgan Keegan, heard Hyter perform in 1993. She immediately enlisted her corporation's support to publicly honor Hyter's contributions to the Memphis community. By contributing to the scholarship fund, individuals and organizations can help provide educational opportunities to benefit needy, vocally-talented high school graduates or college students in the Mid-South area.
Among his most ardent fans and supporters are his wife, Flora, and daughter, Beverly.

"Many find joy at their journey's end. I find joy during the journey... I will sing for as long as I am able and as long as it means something to the community." - James Hyter
---
To see a special article and interview by Glenda Davis, click on the word magic.
Note: The last autograph edition copies of James' solo CD, "Musically Yours", were sold in May of 2011. There are no current plans to produce new, non-autograph editions.
|edition: January/2012|
Copyright 2012 Jasir Productions